All designs are intended for personal web site use*
.



LEASE do not download any of the graphics I use to create the pages on this site. (backgrounds, buttons, bars, bullets, headers, ect...) I have made them exclusively for Gentle Treasures use. Unless otherwise stated, all designs & written content from this site are copyrighted and the property of Gentle Treasures. They are not to be included in an online graphic collection or CD for resale. Please refrain from altering my designs in any way. It has taken many hours of work to create these designs for you.( a labor of love really ) So please be considerate and respect my wishes on this matter. While I can not claim copyrights to the individual images used, I can, however, claim copyrights to the designs I create using such images.

Under NO circumstances whatsoever are you to link directly to these graphics or any file from this entire site. If you are unsure how to download the images to your hard drive or disk, please send me an e-mail with your request. I'd be happy to help with any questions.




*Commercial web site use
All designs are intended for personal web site use, however, I will allow commercial sites to use the graphics - provided I approve of their useage. All users must contact me, via e-mail, and supply me with your URL prior to displaying any graphics. A "Gentle Treasures" image logo or text, with a link back to this site is required on the same page or pages that will be displaying any "Gentle Treasures" graphic. I retain the right to refuse any site ,at any time, from using my graphic designs.( Please note that any site with low moral content will not be accepted.)


Please use one of the graphics below when using any designs or graphics from this site.
with a link to http://ccavan0.tripod.com
(if using a design set, a matching logo will be included)

A gracious thank you....
Enjoy!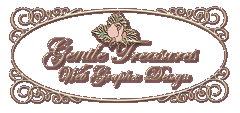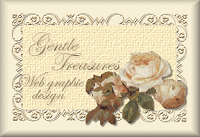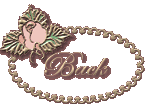 Site Index
Design Sets | Wallpaper | Stationery | Calling Cards | Leave/View Calling Cards | Email | Requests |
Recipe Cards | Favorite Links | Custom Services | Images | Webrings | a little flash | icons | All Designs © Gentle Treasures 2001 - 2003